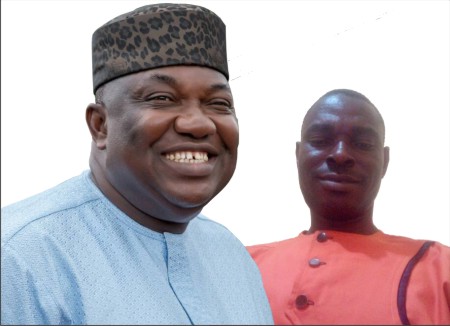 After stumbling on a post which is trending in both traditional and social media written by one Chief Charles Obi Ngene from Agbani, I was miffed to no end for taking out time to read such trash as put together by a supposed Chief. Having come to the realization that in the age of citizenship journalism where one can sit in a beer parlor to spew whatever that catches his or her fancy and push them out uncensored to the reading public, I consoled myself too that such article as unimportant as it will appear has once again exposed the evils of political strategies employed by evil politicians to gain political offices in our clime. Otherwise, how could one who calls himself a Chief offer himself to any politician no matter the attendant lucre to booth and agree to become a dangerous spin doctor all in the name of politics which they erroneously believed is dirty and have no human face.
I'm more than convinced that Ugwuanyi's carriage and philosophy which attended the governance of Enugu State since 2015 is enough to convince these wicked politicians that Enugu train has since moved leaving massive political hatred, acrimony and undue evil behind. To the glory of God, Ugwuanyi remains a man behind the mask in this regard. Ugwuanyi is a man reputed to have handed over the affairs of Enugu State to God. With every sense of modesty, God appears not to have abandoned the ship He is ably captaining with Ugwuanyi as His mentee.
If all the lies emanating from every nooks and crannies of the state with the intent to discredit Gov. Ugwuanyi's administration in other to pave way for evil minded politicians to mount the throne in 2023, then, the propagandists should better watch it. The good people of Enugu State will resist these evil men no matter how powerful they appear to be, because God is more powerful than a million of them joined together.
After reflecting on the motives of these propagandists aside the fact that they are actually hirelings in the hands of their shadowy masters, I have also come to the realization that they cannot but be attention seekers. Ordinarily, these flippant mouthed individuals could not have made headlines anywhere, but I am surprised at the number of mentions in both traditional and social media these men have enjoyed since they pushed out their unfortunate lies to the public.
For failing to provide factual details of what Chief Ngene alleged as the misdemeanors of Governor Ifeanyi Ugwuanyi, he had thoroughly exposed himself as a desperate attention seeker, hungry and desperate for a job to keep body and soul going. His allegations remains the height of reprehensible irresponsibility on a man who called himself a chief. Thankfully, Ndi Enugu had read between the lines to recognize a "shit" done in a farm land from the one scooped into the farm from back of the kitchen. Ndi Enugu know better and will ever be willing to witness to the goodness of their Governor. Ndi Enugu is praying earnestly to have another specie of a Governor come 2023 in the cloak of Ugwuanyi. There is nothing Ngenes of this world and their pay masters can do to circumvent the plan of God for a city on a hill which cannot be shaken.
If Ngene and his paymasters are comfortable with dropping names of individuals for the ultimate goal of giving credence to their perfidy against Gov Ugwuanyi, they will surely receive a million fold of their evil agenda against the people of Enugu State. There is always rain after shine and evil has never ever triumphed over good.
Chief Ngene and his co-travellers need urgent help before it becomes late for them. Better still, they should rest or in a better popular Igbo parlance "Ngene,
Zukwanu ike ka ekpere ruo oru n'isi gi.
Bibian Anekwe News added: "The real leader has no need to lead – he is content to point the way."
Written by
Leonard Ugwu
Media Team Member of ENUGU DI N'AKACHUKWU MOVEMENT.
www.bibiananekwe.com