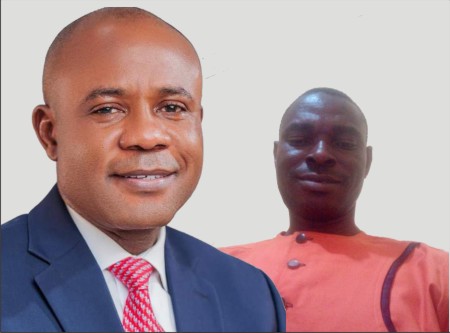 This word "Peterize" has become a new lexicon in the Nigerian English language today. The wave of Peterization is sure sweeping across the length and breath of the Nigerian political space. Thanks to the many Peters contesting in so many elective positions in the scheduled 2023 general elections. Thankfully, Ndi Enugu has already caught up with the bug of "Peterization". No doubt we are in the comity of progressive league and tomorrow in the popular parlance is here with our own Peter Ndubuisi Mbah.
With the candidate of PDP in the next scheduled governorship election in Enugu State in the person of Barr. Peter Mbah, everything might have been laid out in good proportion for the Peter de rock movement in Enugu State. Barrister Peter Mbah is ably qualified and has all it takes to make Enugu State greater. A sound business mogul par excellence, Enugu State is yet set on the existing trajectory of Ugwuanyi's administration. He has the youthful energy in him to pursue the collective goals and aspirations of Ndi Enugu to a successful completion.
Barr Mbah as the chairman and CEO of Pinnacle Oil took Pinnacle from the scratch to its enviable position as a major player in the oil sector of the Nigerian economy. This is what Ndi Enugu would be expecting from the next Peter of Enugu State at the Lion Building. Pinnacle oil at the last count has won so many laurels due to their creativity, doggedness and compliance to standards. Professionally, he is a lawyer who just did not get the certificate but has practiced for years before going into politics and business. These two attributes has really equipped him for the task ahead.
Barr Mbah will bring his business experience into government and we expect an economic transformation in Enugu State. He is from Nkanu East LGA which is famous for its abundance of limestone deposits. There is every hope that in his tenure, Enugu State will own a cement company (if not owned by government, then privately owned). The establishment of a cement company in Nkanu East will create over three thousand jobs directly and indirectly. It will open up the place and also attract other investors there. There will be more road constructions and rural electrification projects there than it is now. More hospitals would be built and pipe borne water provided in the area which will improve the standard of living of people in the area. On the other hand, the economy of Enugu State will blossom. The pressure in Enugu town due to influx of people will reduce because there will be mass movement towards Nkanu East. Landed properties there and estates will greatly appreciate too. Have you seen why we need to Peterize?
Mbah coming from Enugu East does not mean he will throw away other sections of Enugu State. A university of education is billed to be built in Awgu LGA and Mbah as governor will make it a reality. Awgu area has a specie of pineapple that is greatly sought after all over the world yet there is no pineapple juice factory anywhere in Awgu. Awgu land is fertile enough to make it agricultural hub of Enugu State. Mbah will ensure farmers in Enugu State are greatly assisted via cooperative societies, grants and low interest loans. Why should Enugu State import garri and other cassava products from other states while there is fertile land in Uzo Uwani, Ette, Awgu, Aninri, Ugwuoba,, Obollo Eke, Ikem, etc. Mbah's government will actually bend down and discover what we have overlooked for years.
Water scarcity that have been persistent in Enugu metropolis will be tackled by Peter Mbah head long. It is not a rocket science to give Enugu uninterrupted water supply. It is in the pipeline to ensure that water is pumped regularly from Ajali and other water scheme projects to Enugu regularly. Mbah has the political will to make it happen and he will surely do it.
Mbah as an academic lover will ensure uninterrupted school program in Enugu State. Enugu State have not been doing bad academically and will never do bad in the next administration. We expect that more higher institutions both public and private will be established in Enugu State in the next administration. We are expecting at least two higher institutions of learning in Oji River and Enugu East LGA respectively. We also expect massive equipment of school libraries and technological laboratories. Enugu is no more a civil service state as being assumed and under Mbah, it will be competing favourably with Onitsha and Aba in terms of commerce and industry.
Another area Mbah will up his game is in the area of security. The present governor has done so well in security and Mbah will take it to a higher level. His synergy with local vigilantes and neighborhood watch will be examplary.
Mbah is poised to hit the ground running and has all it takes to revolutionize Enugu State for better. Mbah himself is a youth and will work with youths more.
Most crimes are committed by youths and is ready to engage the youths by creating a condusive atmosphere for SMEs to thrive in Enugu State. If the youths are positively harnessed and engaged, crime will drastically reduce, economy will grow astronomically and standard of living will increase greatly.
There is a need for us to Peterize Enugu for a better tomorrow. As we know, the tomorrow we feared yesterday is today. Our tomorrow is here, lets Peterize Enugu, get Peterized.
Bibian Anekwe News added: "Many great leaders inspire others by leading by example. Giving encouragement and praise inspires those you lead to persevere through challenges".
Leonard Ugwu
Media Team Member of ENUGU DI N'AKACHUKWU MOVEMENT
www.bibiananekwe.com