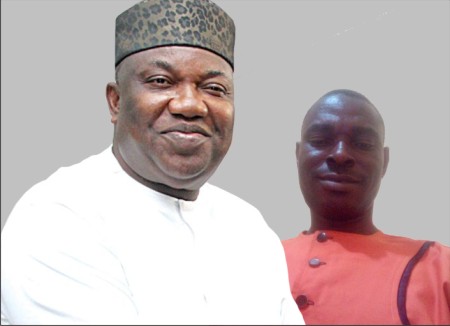 There have been many publications, side talks and insinuations that Nsukka political zone is worse under Ifeanyi Ugwuanyi as the governor of Enugu State than other past administrations. Some political group and even clergy men have come up with some reason to prove their point. I have looked at it from every angle and beg to disagree with them fully.
The truth is that Gov. Ugwuanyi did not overlook Nsukka political zone in anyway in his development agenda
Think of it, he gave Nsukka a government house annex at Ede Oballa. This is qualified to be a government house any day, any time. The offices there are functional and already in use. If per chance a new Adada State is created today from the present Enugu State, there is a ready government house in waiting for its take off. The offices are immovable and an indelible mark of Ifeanyi Ugwuanyi's administration
Gov Ugwuanyi built a world class hospital at Igbo Eno which is in Nsukka. When this becomes functional which will happen in matter of weeks, it will be as good as UNTH or Parklane Hospital or even better than them. With college of medicine there, it means we can train qualified doctors in Nsukka soil. We don't need to refer patients to Enugu or elsewhere again rather it will become a referral hospital. Gov Ugwuanyi renovated and equipped general hospital Ogrute in Igbo Eze North LGA. He has also done the same in other LGAs in Nsukka zone.
Gov Ugwuanyi gave Nsukka political zone an Olympic size sports stadium. He built and equipped a sport stadium at Nsukka town. What Nsukka need now is a sports team especially football and not facility again. The facility is on ground courtesy of Gov Ugwuanyi's administration.
Academically, Gov Ugwuanyi has attracted a federal polytechnics at Ohodo. He has also created a campus of Enugu State polytechnics at Udenu LGA. His administration has given Iheaka Girls Secondary School a major face lift. The school can be converted to a college of education any time. It is still on the pipeline and can become a reality soon. If his administration alone was able to give us two or more high institutions, what else are we crying for? The schools alone will create more than 5000 jobs for our people. When Federal Polytechnic Oko was being attracted to Oko, the people did not value it, but today they are enjoying it. The people of Oko in retrospect can commend the spirit of late Dr. Alex Ekwueme for putting the community of Oko in the global map. Till date, Federal Poly Oko as it is fondly called remained a great legacy of Alex Ekwueme to his people. Gov Ugwuanyi has attracted a functional Command Secondary School in Nsukka area.
In commerce, most market in Nsukka area has expanded and kept expanding. If things are not rossy for them, how will they expand.
In rural development, there have been rural roads, rural electrification projects, pipe born water, primary and secondary school renovations in many parts of Nsukka area. When he was giving each autonomous community in Enugu State development fund, Nsukka area was not excluded. They benefit like any other community, so why the attack?
Is it in terms of appointment that he has failed us? I don't think so. Check the number of political office holders from Nsukka and you know he has done so well.
Now where has he failed Nsukka people?. That he did not appoint me as his aid or build any project in my town doesn't make him a failure. If he did not do anything for me personally, he did it for my friend or brother. If there is no project in my village, there is one in a nearby village. I can benefit from those ones and be happy.
Gov Ugwuanyi to me has not failed and should be allowed to concentrate and finish his tenor peacefully. Enugu State is really in the hands of God.
Bibian Anekwe News added: "Becoming a great leader is more about the inner qualities you possess than the title you are given. While a person may be in charge of managing people or heading a project, a genuine leader is one who can inspire others to accomplish something important."
Leonard Ugwu
Media team member of ENUGU DI N'AKACHUKWU MOVEMENT
www.bibiananekwe.com