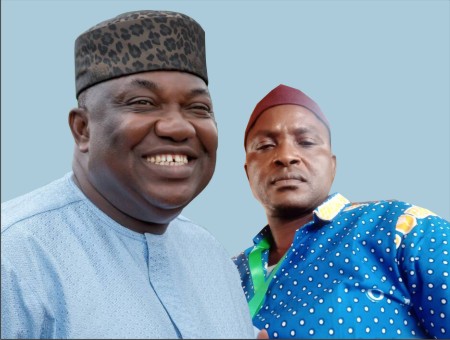 The global community no doubt has been infected with multifarious crisis, conflicts and crimes of unimaginable proportion. No single day passes without being inundated with gory news details of insecurity, political instability, banditry and all sorts of conflicts which has continued to threaten world peace and would rather bring it to its very knees. The situation is even more scary in the African continent where the combined forces of social disharmony occasioned by avarice, greed, corruption and desperation to corner and own the juicy part of the earth and above has assumed an alarming proportion. Ironically, the situation on ground had seemed to defy any known political solution or even the ingenuity of any known expert in any field conceivable.
The agitation on every mind has been how to tackle both our natural and self inflicted crisis. Who do we turn to? Where do we turn to? These questions would be best appreciated if we still acknowledge that a Supreme Being was and is still in our midst. The One who created heaven and earth and everything therein and knows every human's end from the very beginning should no longer be taken for granted to rescue humanity from its many problems. Ironically too, there are too many religious people all over the globe with little modicum of humanity embedded in their body and soul. Were it not so, the self inflicted human crisis would not have arisen. Every single day, these religious humans pay as many trips to their chosen places of worship in self deciet. Despite our self effacing posturing in our places of worship, evil doings has remained on the increase. We might as well be the people, the Holy scripture described as the hypocrites… "these people draw near to Me with their mouth, And honor Me with their lips, But their heart is far from Me. And in vain they worship Me…"(Mat. 15:8-9)
However, there are these reassuring lines from the Holy scriptures also which seeks to draw the attention of every living soul to turn away from our wicked ways and seek the face of God to save the earth from eternal damnation and other natural and man made infections… "Seek you the Lord, while He may be found, call you on Him while He is still near…" (Isiah 55:6)
These are eternal words of truth. True leaders are ever seeking ways to gain spiritual strength to tackle these natural and artificial economic and political crisis bedevilling our society. Governor Ifeanyi Ugwuanyi is one such leaders who has remained unshaken in his belief and faith in God to help him take Enugu State out of the doldrums. Without sounding immodest, Ifeanyi Ugwuanyi might not have covered every conceivable ground development wise, no single leader ever does within a given time frame, but suffice it to assert that he had divinely covered appreciable ground that every right thinking citizen of Enugu could be proud of. In today's Nigeria, peace and social harmony has truly become a scarce commodity. Those who have vehemently criticized Governor Ugwuanyi for taking the governance of Enugu State to the throne of the Almighty God might have done so and still do that out of sheer political mischief and not that they have not seen the visible hands of God in action in the governance of Enugu State. If the truth be told for even the mischievous characters to retrace their steps, the many developmental strides and modest achievements of Ugwuanyi's administration could not have been truly possible on the strength of Ugwuanyi's personal efforts. God is truly at work directing his every step all the way and even making the ever ubiquitous cabals and hangers on to key in to the policies and programs that will be beneficial to every Enugu citizen.
Even inspite of all these, Ugwuanyi has shown that only true commitment and alliance with God can continue to sustain the society no matter what any human can claim to be. Acknowledging that difficult times has become part of human existence in our present society, governor Ugwuanyi took God for who He truly is and asserted that only His intervention can break the yoke of economic and socio-political hardships being experienced elsewhere in the world especially in Nigeria. This practical demonstration of absolute faith in God to solve our myriads of problems might have taken a toll in the finances of Enugu State but like a popular saying goes… "Life is much more valuable than what is expended to sustain it". Governor Ugwuanyi clearly understood this maxim and therefore will not look back when he sent off a total of two hundred and seventy four Pilgrims (274) on pilgrimage to Jordan and Israel on the purse of the government. What a thoughtful adventure! But this is not the first time, his administration is sponsoring selected Pilgrims to the Holy land since he came to power. Underscoring his perseverance in taking Enugu citizens to the Holy land to pray for our unity, peace and progress, Ugwuanyi's administration has earlier been honored with the award of the best performing Pilgrimage Governor in Nigeria by the National Christian Pilgrims Welfare Board. The truth which is also affirmed by the Executive Secretary of the Enugu State Christian Pilgrims Welfare Board, Barr. Nestor Ezeme, is that Ugwuanyi is truly a God fearing leader and has invested to the success of religious programmes in Enugu State which has remained unprecedented in the annals of the state's existence.
While we thank Ugwuanyi who truly believe that with God, everything is possible, may I quickly reiterate the admonition of the governor to the Pilgrims already in the Holy land to remain focused to the objectives for which they were selected and sent on behalf of the state and also remain good ambassadors of the state and the nation at large.
May God truly prove through these faithful Pilgrims that Enugu State is securely in His able hands. Let their actions and conducts reflect their true state of descent.
Bibian Anekwe News added: "Leadership is lifting a person's vision to high sights, the raising of a person's performance to a higher standard, the building of a personality beyond its normal limitations."
Austin Okechukwu Chijioke.
Public Affairs Commentator.
Media Team Lead for Enugu Di N'akachukwu Movement.