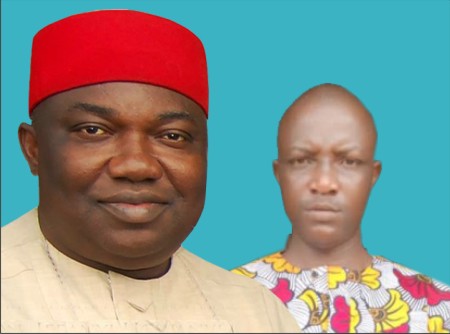 "There is something that is greater than all the armies in the world and that is an idea whose time has come." Victor Hugo
The successful gubernatorial primary election in Enugu state is another landmark achievement of Gov. Ifeanyi Ugwuanyi's administration. Sequel to what appeared to be a detraction by a fervent ridiculous faction of the political gamblers to constitute a kangaroo primary election in Enugu state, things took a natural turn and rendered their plans null. Hence Barr. Peter Mbah emerged the flag bearer of the Peoples Democratic party (PDP) Enugu state. I must commend Senator Ike Ekweremmadu significantly for leaving behind his personal interests and polled his total support base for Barr. Peter Ndubuisi Mbah. Worthy to acknowledge here are the eight aspirants who stepped down their aspiration to let Barr. Peter Ndubuisi Mbah to fly the flag of the Peoples Democratic party (PDP). Your records are ever in the history of the state. I equally wish to commend the tenacity in Barr. Chijioke Edeoga and other allies who contested the election. You have not in any way defaulted. Your relevance in the state cannot be underestimated. I want to encourage you to take a lesson from the great Abraham Lincoln of America who insisted on seeing his dream come true to become one of the American's Presidents. I urge you to Faithfully keep  your desires burning and try another time as every dog has its own day.
Nevertheless, as the citizens of the state expect huge transformation, continuity and expansion of Gov Ifeanyi Ugwuanyi's projects, we crave every hand on the deck to synergize with Barr. Peter Mbah to move Enugu state forward.
It is note worthy that Barr. Peter Ndubuisi Mbah's victory at the just concluded primary election is a real manifestation of God's plan for him. At this certain time, God knew when he was formed in his mother's womb that he would become the next governor of Enugu state after Gov. Ifeanyi Ugwuanyi. Before his dream turned to reality in the primary election, God had already perfected his plans by hackneying through the hearts of the eight aspirants to surrender their aspirations and step down for his will to uphold.  _*QUAD SCRIPSI SCRIPSI_*
More over, I want to use this opportunity to intimate the incoming governor of Enugu state, Barr. Peter Mbah of the challenges of managing human affairs in the capacity of a governor. It requires huge commitments and personal sacrifices.
Barr. Mbah should note that the shoes which Ugwuanyi would be leaving behind could only be bigger than his feet if he allows vendetta, muscling of opposition and disharmony to reign Supreme during his regime. Ifeanyi Ugwuanyi has left a great mark which he should strive daily to cover or die. Anything short of an improvement in all areas that Ugwuanyi has touched will mean a total defeat of the great hopes and faith placed on his shoulder. Every single day, people pray for a replica of Ifeanyi Ugwuanyi as 2023 approaches. May Barr. Peter Mbah be that true replica we have prayed and hoped for… Iseeeee!
The incoming governor by the grace of God in 2023 should endeavor to consolidate on entrenched Ugwuanyi's legacies in Education, Security, Agriculture, Employment generation, Small and Medium Enterprises policy upgrade, infrastructural developments and the rural – urban developmental policies and programs.
Most importantly, the incoming governor must continue to derive his leadership lessons and strength from the legacy of Ifeanyi Ugwuanyi as a bridge builder, peaceful and friendly with utmost foundation in equity, fairness and justice without considerations for party or clannish affiliations.
I sincerely congratulate Barr Peter Ndubuisi Mbah on his success at the just concluded state primary election. His victory in the scheduled general election 2023 is also assured because Enugu State is in the hands of God.
Accept my sincere regards.
Bibian Anekwe News added: "Leaders come in two flavors, expanders and containers. The best leadership teams have a mix of both."
Hon. Okonkwo Okezie
Media Team Member of ENUGU DI N'AKACHUKWU MOVEMENT.
Bibian Anekwe News
www.bibiananekwe.com