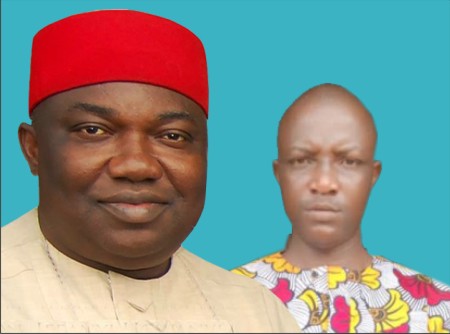 The incumbent senator representing Enugu North senatorial district in the red chambers of the National Assembly recently announced his intention not to go back to the senate for the third time. This is no longer news for those who have followed both the traditional and social media in recent weeks. It is important however to situate that singular decision by Chuka Utazi, the Uzo-Uwani born politician in the precincts of a noble one. For one, the tendency by our political actors in our clime to cling to political power in so long as they have the wherewithal and the political chest power to impose their aspirations on the people irrespective of their agreement to such imposition have become our Achilles hills. For another, it is rare to find gentleman or woman politician who might willingly yield the stage to enable another political actor to mount the stage in our clime notorious for *it must be me syndrome*.
Although, there might be permutations here and there about the clear intentions of Senator Utazi's gesture to relinquish the senatorial seat which he has no legal restraints whatsoever to vie for again, the important fact to note is that he has provided a model which is worthy of emulation. Those who have never felt any qualms clinging to a political position simply because the law supported it and the people have been shortchanged to support it should pause to consider Senator Utazi's good naturedness.
Senator Utazi might have been placed in the category of other politicians elsewhere, but his decision showcased him as a good student of Governor Ifeanyi Ugwuanyi who believed in the politics of inclusion and egalitarianism.
Senator Utazi acted in public interest which has continued to characterize governor Ugwuanyi's administration.
It is important to re-echoe the philosophy of *Onye rie, ibe ya rie* which good conscience and morality entails. Governor Ugwuanyi has never left anyone in doubt that he sleeps and wakes with equity, fairness and justice for the good of Ndi Enugu. Those who have have refused to imbibe this culture of peace, equity and fairness must be profiled as the enemies of the state. We must therefore commend the gesture displayed by senator Chuka Utazi. It must be remembered that a one time senator from Cross River central, Ben Murray Bruse was reputed to have shown an exceptional class in his own time when he vowed to do only a single term in the senate to enable another politician to mount the stage. All politicians must emulate this kind of political inclusion to enable an enduring peace, harmony and political justice in the land.
Thank you Senator Utazi for believing in Ugwuanyi's culture of political inclusion. May Enugu State continue to be in the hands of God.
Bibian Anekwe News added: "Leadership is about making others better as a result of your presence and make sure that impact lasts in your absence".
Hon. Okonkwo Okezie
Media Team Member of ENUGU DI N'AKACHUKWU MOVEMENT