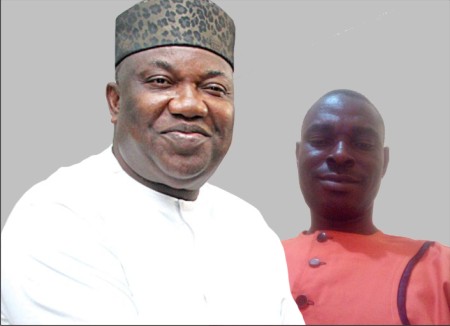 Since Gov ifeanyi Ugwuanyi assumed the governorship sit of Enugu State, he has demonstrated his love for the unity of this country in more ways than one. In his speeches, he has talked of unity and peace of Nigeria and have acted in that line than any other governor in Nigeria. To demonstrate this, he has appointed people from every part of this country in his office. As a highly cosmopolitan leader, he sought the best hands irrespective of tribe or religion. This is the nature of Gov Ugwuanyi. Gov Ugwuanyi has also ran a lean government.
After winning 2019 election, a sister state governor here appointed about 850 persons as personal assistants in one fell oswoop and increased the number to about 1200 person in the next year. This is not far from what is happening in other states. Sometimes in 2011, a governor in North Eastern Nigeria sacked 2000 SA's and retained a other 2000 aids. This is just absurd.
Gov Ugwuanyi has not, will not and will never run this kind of government. Ugwuanyi knows the limit of his resources and have appointed few persons to help him run his government smoothly.
Gov Ugwuanyi have not put Enugu State into any debt burden. He has not borrowed any money from anywhere since he assumed office and do not intend to borrow now that he is living office. Some governors has put there state into a heavy debt burden. Even those that inherited reasonable money in the office blew the money and put the state under heavy debt before leaving office. Statutory allowance of some state for a year may not be able to pay off their debt burden. This is why we need a Gov Ugwuanyi at the center.
Gov Ugwuanyi has made Enugu the most peaceful state in Nigeria since his assumption of office till date. Look at what is happening in states around Enugu and look at what is happening in Enugu State, it is a sharp contrast. Enugu has remained peaceful while other states are literally boiling. One can go freely anywhere in Enugu State, you cannot try that in any state that is in the same geopolitical zone with Enugu or any state that borders Enugu. This is the magic wand of Gov Ugwuanyi. How has he achieved that? That is why we need him at the center.
Gov Ugwuanyi has also attracted so many investors to Enugu. A gigantic company is coming up at umumba along Enugu Onitsha express road. There is a petroleum products and plastic company at Bunker, Enugu. Some airlines have come into Enugu courtesy of Gov Ugwuanyi's government. Some new higher schools have also started in Enugu because of its peaceful environment.
In person, Gov Ugwuanyi is humble, gentle, matured, intelligent, respectful and calculated. He has not quarreled with any of his aids, deputy, cabinet members or even legislators and the judiciary as witnessed in the past. He is accommodating and has carried everybody along. That is why we need him at the center.
He is in constant personal touch with his people. He visits them frequently and feels them. He has a listening ear and accommodating heart. This is what has endeared him to the people.
If an Ugwuanyi goes to the center, he will give Nigeria security we have been missing for over twenty years. Having not gone to any medical trip abroad all through his stay in office, he will fix all the hospitals and health sector in Nigeria. There will be no brain drain if he assume office at the center. This is because he knows what human capital development is and have pursued that in Enugu State vigorously. If he was able to do it in Enugu State with meagre resources, imagine what he will do at the center if he gets there.
There has been persistence fuel scarcity and high price in Nigeria for over twenty years. Gov Ugwuanyi in his wisdom will commission over 50 modular refineries within four years. This sounds unbelievable but it is true. If it is done, fuel scarcity will be a thing of the past in Nigeria.
It is his type of person that Nigeria needs and we see that Nigeria's future is in Gov Ugwuanyi.
What else can we say than to allow Gov Ugwuanyi put Nigeria in the hand of God as he has put Enugu State.
Bibian Anekwe News added; " Leadership is the capacity to translate both visions and ideas".
Written by
Leonard Ugwu
Media Team Member of ENUGU DI N'AKACHUKWU MOVEMENT