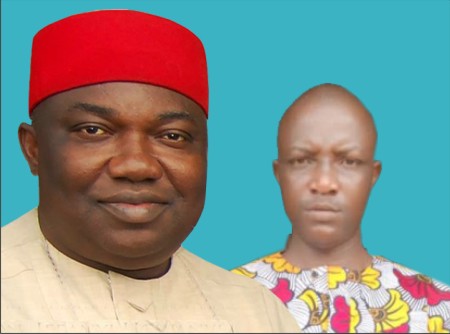 Despite the challenges of the global economy and its impact on the socio-economic and political well-being  in Nigeria, Gov. Ifeanyi Ugwuanyi has greatly demonstrated management and leadership models espoused by the world acclaimed management guru. It was Peter Drucker who affirmed that management is doing the right things, while a leader will chose to do those things right.
Governor Ugwuanyi through a combination of managerial and leadership skills has proved his mettle and delivered on the mandate given to him by Ndi Enugu. A lot is still needed to be done, but he is not resting on his oars yet. He has vowed to continue working until his last day in the office despite the distractions of the current political struggles for the 2023 general elections. Ndi Enugu must as a matter of priority therefore offer their daily prayers on his behalf to remain focused to finish strong. Gov. Ugwuanyi has severally requested this important oil of anointing in several fora.
It is important to affirm that governor Ugwuanyi is a complete round peg in a round hole. He did not chance on leadership. Leadership skills appears to run in his DNA. While the quintessential management guru, Peter Drucker will paint what a manager and a good leader does, he equally took a swipe with the benefit of a hindsight on the contemporary political class. Peter postulated that contemporary politicians are mere politricians. In other words, modern politicians do not mean to fulfill their political manifestos when they seek political mandate from the people but will always observe their campaign promises in the breach. Governor Ifeanyi Ugwuanyi is one of the few contemporary political leaders who have proved Drucker wrong with this seemingly true analogy about our modern day political leaders.
Enugu state is truly blessed by the gift of Ifeanyi Ugwuanyi as her Governor in the 21st century. Gov. Ugwuanyi has the zeal, skill and the passion to administer a state that has for so long suffered in the hands of political contractors, politricians and some others who condone violence and the annihilation of dissenting voices to government policies and programs.
For Gov. Ifeanyi Ugwuanyi, no situation is insurmountable. Following the devastating economic recession experienced in the past two years in the life of the current administration, many state Executive officers took a hard decision to lay off their workers but not for Ugwuanyi. Rather than engage in staff rationalization, he remained determined to keep the entire Enugu State workforce and ensured that they are regularly paid their salaries as at when due including an additional 13th month. How Gov. Ugwuanyi was able and still able to continually pull this stunt will definitely be a matter for another day. Gov. Ugwuanyi is an astute manager of men and resources.
There is no denying the fact that almost every facets of the socio-political economy has received a touch of Ugwuanyi's exhilarating balm. This space will be grossly inadequate to document this, but suffice it to mention that for the first time in the history of the state, a Professor of Education is heading the Education sector as Commissioner just so that the much needed transformation in the education sector is realized. These days, our students hardly skip schools nor play truancy. This is made possible because gburugburu has made our schools absolutely conducive for learning. All primary and secondary school buildings have been rebuilt and renovated into ultra modern school standard. He has the skill to address the prevailing social ill in the society.
Ndi Enugu must ever remain thankful to God for gifting them with Gov. Ifeanyi Ugwuanyi. Enugu state in its entirety is well secured. Gburus has antagonized criminality in Enugu state to a zero level.
Ndi Enugu must ever remain grateful to our workerholic governor for successfully accomplishing the T- Junction flyover.
God has never made a mistake by blessing Ndi Enugu with governor Ifeanyi Ugwuanyi. He has reduced the people's wide conception of politics as a dirty game.
Ndi Enugu will never forget in a hurry the impact of Gov. Ifeanyi Ugwuanyi in their lives. God bless Gov. Ifeanyi Ugwuanyi and people of  Enugu state. We are solidly behind our governor.
Bibian Anekwe News added: "The key to successful leadership today is influence, not authority".
Written by
Hon. Okonkwo Okezie
A media Team Member of Enugu Di N'Akachukwu movement.