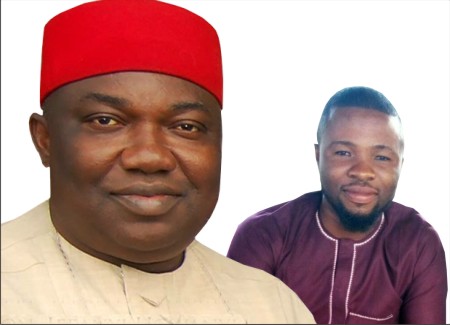 Words and other means of expression have tainted and maimed reputations and characters of leaders, famous persons, including people at the lowest ebb of life. Defamatory attacks appears to be part and parcel of a dirty political strategy to stew a political opponent to gain political advantage. It is instructive however to assert that just like in a local parlance that not every rain water from the sky need to be collected by storage drum. Some rain are quite insignificant and of no value and so cannot be honored by such storage material. Some are so dirty that it cannot be used for anything but only fit for funneling out through the sewage pit. Of course such dirty water are known for its offensive smell that it will require the intervention of a deodorant to clear the odour. This is the situation with the offensive odour emanating from the tank of one Chief Obi Ngene otherwise it would have been unnecessary to honor him with a rejoinder knowing him for who he is and who he represents. But how far can evil detractors go?
As the political gaming and it's accompanying  permutation continues to gain momentum in Nigeria, some political actors whose names and images had not, in both past and present been represented or positioned in political forefront, now resort to all manner of witch hunting against the people oriented leaders. They do everything possible to come to limelight by threatening the working systems with all sorts of blackmail and unfounded negative publications.
Let me assert without equivocation, that this is an important time in our great nation. The so called attackers don't seem to have eyes to see, ears to listen and mouth to utter the right things especially in this challenging times the nation is crying for solutions to her economic and security challenges.
One would have expected that person of Chief Ngene and his accomplices, would have focused more of their strength on digging up alternatives that would help in addressing the system's quagmire and decay, but their destructive and egocentric tendencies tend to becloud their reasoning by further advancing their unpatriotic steps.
In recent time, media onslaught against our amiable Governor, Rt.Hon Ifeanyi Ugwuanyi have taken a new dimension and approach as day in day out, our media space now entertains numerous defamatory and sensationalist news focusing more on distorting the personality of Gov.Ugwuanyi rather than applauding his good policies.
The recent abuse and series of smear and calumnious campaign against Gov.Ugwuanyi became widespread as the day of reckoning draws near and the pressing request from Ndi Enugu to bequeath to them, his replica come 2023, becomes obvious. Fortunately, good people of Enugu have become wiser and aware of the tendencies and intentions of the unrepentant detractors who are ardently bent on dragging the  personae of Gov.Ugwuanyi to the mud.
The envy appears to fester as a result of the unprecedented recognition and publicity Gov.Ugwuanyi had continued to receive from all quarters particularly at the national level. Lately, these honours and recognition grew higher as his call to national assignments and its accompanied successes continue to make waves at the national firmament.
In the Proverbs 11:9, we are told that "With their mouths the godless destroy their neighbors," a clear example of this force being wielded, is the recent drivel and accusation by Chief Charles Obi Ngene with deliberate intention of misleading the good people of Enugu. The mischievious undertaking by Chief Ngene never reached a broader public because the masses are at home with the leadership of Gov.Ugwuanyi which is clearly demonstrated in his prudent, accountable and transparent leadership. Chief Ngene is a low character who struggles to find his way to a higher ladder, a path of progression which he could have sought and attained through legitimate and other patriotic means.
Chief Ngene and his accessories would have tasted a bitter pill of his spurn if his perfidy had happened in the years gone by. But here they are, having a field day slandering an administration which had given them a peaceful platform to drivel and publish anything without fear of being maimed. It is not that the lion doesn't know what to do to the lower animals but it chose to overlook them and consider their miniatures.
The leadership of inclusion, which Gov.Ugwuanyi had entrenched in the State had further boosted their effrontery to act at will and escape without justly handled.
Chief Ngene and his coadjuctors should engage themselves in more meaningful adventures through enabling environment and other progressive platforms which the administration of Gov.Ugwuanyi had bequeathed to people of Enugu State.
Gov.Ugwuanyi has risen to a level where none of the so called pessimists and the confusionists can scuttle his chances of progressing to highest level of political attainment and other endeavors as he may desire.
In summary, the administration of Gov.Ugwuanyi can never be distracted by the workings of the negative opinion makers, confusionists as well as agent of distractions, but will, at all time, continue to align with the demands of the public which he had sworn to uphold as well as execute.
*BIBIAN ANEKWE NEWS.. added…People must not believe in rumours. Even those who are spreading rumours and fake news must realize that they are not only disturbing others, but also putting their own lives at risk.*
Written by
Gibson Uchenna Ilozuru
Political Analyst
Media Team Member of  ENUGU DI N'AKACHUKWU MOVEMENT
*www.bibiananekwe.com*