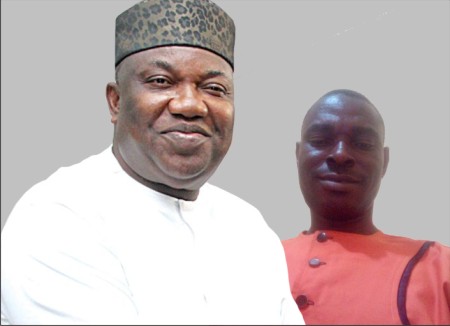 Hurray, governor Ugwuanyi's administration is seven. And that is seven years of unprecedented socio-political and economic transformation in Enugu State. This seven years have been truly eventful and rewarding. It's been seven years of action, seven years of human capital and infrastructural development and seven years of reinventing Enugu State.
What Gov Ugwuanyi have been able to do in these seven years that could be considered as a scarce commodity scarce in other states is peace and security. Despite all the _*kata kata_* _*tigbuo zogbuo_* and _*chiri obi n'aka_* prevalent in other states, Enugu State has remained peaceful relatively. Some parts in the adjoining states to Enugu have been turned into another "Sambisa forest". Enugu keep on receiving large numbers of people relocating to Enugu almost on daily basis because of the peace prevalent in Enugu. This is one of the most precious gift Ugwuanyi has given to Enugu people that is largely unappreciated. Sound of gun fire is no longer new nor a threatening factor to some inhabitants of Osumoghu, Lilu,Aazia, Orlu etc which is direct opposite of what is obtainable in Enugu.
Gov Ugwuanyi has given many rural dwellers fresh air and lease of life. For the first time, every autonomous community was given N5M to embark on any project of their choice. For the first time Enugu State government have stayed without fracas with the legislators and or judiciary for almost eight years. This government has embarked on human capital development than any other government in Enugu State.
Gov Ugwuanyi's administration has placed the youths in prime position and have worked with them more than any other administration in Enugu State. He has blended the youths with the older ones and that has given a fruitful result. Almost all the local government chairmen in Enugu State today are youths. This means Ugwuanyi is preparing the youths to take over the government of the state in the nearest future.
On physical infrastructures, this government has built many roads, over one thousand school buildings in various primary and secondary schools. He has built and commissioned over 30 court buildings. The ESUT college of medicine Igbo Eno is nearing completion. He has built government house annex at Ede Oballa, Olympic size sports stadium at Nsukka and have built over 50 rural roads. Over 200 communities have enjoyed public power supply for the first time courtesy of this government. They are still enjoying it up till today.
Enugu State is today the most secured and most peaceful state in Nigeria. Gov Ugwuanyi have effectively used traditional rulers, political office holders and vigilante groups to give Enugu maximum security. Community police is working in Enugu more than any state in Nigeria courtesy of Gov Ugwuanyi.
As a leader with the right managerial skills,  Gov. Ugwuanyi has developed Enugu to make more internally Generated Revenue (IGR) than any state in the South East Nigeria. Enugu also has the best road network in the South East. Recently Enugu completed it's fly over for the last 20 years.
There is actually many reasons to celebrate seven years of Ugwuanyi on the throne. We are proud of him and are not ashamed to say that Enugu State is in the hand of God.
Bibian Anekwe News added: Outstanding leaders go out of their way to boost the self-esteem of their personnel.
Written by
Leonard Ugwu
Media Team Member of ENUGU DI N'AKACHUKWU MOVEMENT.
Bibian Anekwe News
www.bibiananekwe.com