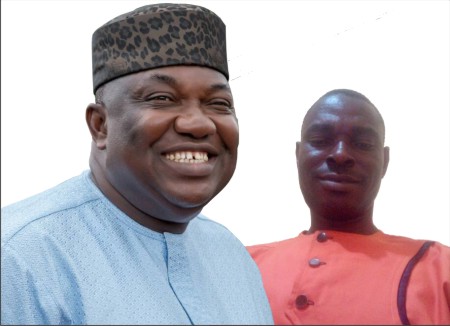 In 1983 after the general election in Nigeria, news made the round that the presidential flag bearer of Nigeria Peoply Party (NPP) Dr Nnamdi Azikiwe was dead. The news was later found to be false. A news caster with Anambra Broadcasting Service (ABS) Enugu, Mr Paddy Eke called the originator of the news "radio no battery". This is the best way to describe the rumour being peddled by a popular media house and whistle blower ( Sahara Reporters). The online media outfit went to town with the mischievous story recently that Gov Ifeanyi Ugwuanyi of Enugu State have been pressured to accept Mr Peter Mbah as his successor by Chimaroke Nnamani and Ike Ekweremadu.
Am still wondering from where they sourced this piece of misinformation. Has Sahara Reporters suddenly got caught up in the comity of mischief makers in Enugu or their sponsors?. Gov Ugwuanyi have never chosen anyone among the contenders to succeed him as his anointed candidate. So who is cheering Sahara Reporters to misinform the good people of Enugu State and to achieve what?.
That reminds me that in the heat of 2007 presidential electioneering, the flag bearer of the Peoples Democratic Party PDP, Umaru Musa Yaradua fell sick and was flown to Germany for treatment. This same Sahara Reporters came out to publish in there website that Yaradua is dead in Germany. In one of the campaign trains, then president Oluesegun Obasanjo has to put a call to Yaradua while on campaign ground and asked him "Umaru, are you dead?". Yaradua chuckled from the other end and answered him that he is still alive. As if they are not yet satisfied, the online news media went ahead to announce the death of Yaradua sometime towards the end of 2009 when his was still alive. They even published condolence message from the queen of England to Nigeria, even while Yaradua was still alive. When the former governor of Enugu State Barr. Sullivan Chime was sick and went on medical trip overseas for five months, they declared him dead. Incidentally he is alive up till date. In as much as they try to come out first with breaking news which is commendable, they need to get there facts right. They are pushing themselves hard to be in the class of "radio no battery" which will do them no good. They should rather strive to be known with detailed investigative journalism than with false breaking news.
Gov Ugwuanyi of Enugu State have not endorsed any of the candidates and was not even called for a meeting to discuss that with anybody. Everyone have been speaking his mind on whom he want to succeed the governor which they are entitled to.
From the publication, it is clear that the writer don't want Peter Mbah as Enugu governor but fail to tell us whom he want. If he has a personal issue with Mr Peter Mbah, he should settle it with him without dragging Gov ifeanyi Ugwuanyi into the issue. It is on record that more than 10 persons  have declared interest in Enugu State governorship seat and all of them are qualified. Even the committee set up by the party cleared all of them including Peter Mbah. The primaries is yet to hold and a radio no battery has come out with a result of a primary election yet to hold and a media house is proud to publish it. This is journalism without fact which is bad and childish.
Let us cross our hands and keep praying that Gov Ugwuanyi will make a good choice of successor for us.
Look at it the other way even, the writer have not seen the good works of Gov Ugwuanyi. He has not seen the roads he had constructed. He has not seen the world class hospitals, he has not seen the sports stadium at Nsukka, he has not seen the secretariat annex at Ede Oballa, he has not seen his impact in SME. He has not seen his peaceful disposition and the level of peace his has achieved in Enugu State. He has not seen influx of investment both foreign and local in Enugu State since 2016. He has not observed that Enugu State civil servants has not gone on strike since the inception of this administration, which has never happened before. The list of what he has not seen is endless. The only thing he is seeing is Peter Mbah being anointed by Ifeanyi Ugwuanyi to be in Lion Building in 2023. This "radio no battery", zukwanu ike. Ugwuanyi has given a very level playing ground to all the contestants and whoever the delegates choose, will fly the parties flag but know that Enugu State is in the hand of God. God will not disappoint us.
Bibian Anekwe News added: "Leadership's is not a title. It's a behavior. Live it".
Written by
Leonard Ugwu
Media Team Member of ENUGU DI N'AKACHUKWU MOVEMENT.
www.bibiananekwe.com