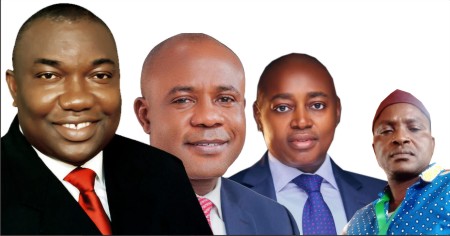 For the Owo born 50 years old maritime Lawyer, financial analyst cum politician, Barr. Dr. Peter Ndubusi Mbah, working very hard to assail the challenges of making it to the very top has become almost like a virtue rather than a Hollywood movie or the world of make belief. Interrogating the psychological make up of Barrister Mba, one time chief of staff to an Enugu State Governor and later serving in the same administration as the Finance Commissioner, would reveal a man who believes more in a name and strives consciously to live it out in spite of every odd against him. His was christened Peter which it's Biblical interpretation is the 'Rock' and 'Ndubuisi' which connotes that "life is supreme". In other words a life of value is a life of worthiness and he who has life can summount any obstacle and would remain like a Rock that cannot be crushed. Interestingly, this is the life of Barrister Peter Ndubuisi Mbah who having served out in the administration of Dr. Chimaroke Nnamani as finance commissioner plunged headlong into his second calling as an entrepreneur and made a success of it.
On Saturday, the 22nd day of October, 2022, President Muhammadu Buhari officially opened the Pinnacle Oil and Gas FZE Terminal in Lekki, Lagos belonging to Barrister Mbah, the current PDP standard bearer in the 2023 gubernatorial election in Enugu State. The President used the event of the virtual commissioning of the Pinnacle oil and gas facility to assert that through the doggedness and resilience of Mbah, Pinnacle oil has been navigated to the top as the name implies and has become one of the major player in the petroleum upstream sector of the economy.
The President was also full of praises for Pinnacle oil for activating cost effectiveness in its operations and improving the distribution of petroleum products to many areas in the country as well as easing traffic conditions in the Apapa area of Lagos state.
The implication of the acknowledgement of the Pinnacle oil and gas contributions to the socio economic development of Nigeria by no mean person than the President of the country is that Ndi Enugu is set to reap from the success that has become Pinnacle and by extension its Chief Executive Officer.
When in May 2022, Barrister Mbah, a Fellow of the Certified Institute of Public Administration and Management (CIPM), a member of the Nigerian Institute of International Affairs as well as the Nigerian Bar Association won the governorship primary election of his party, the Peoples Democratic Party, not quite a few rejoiced that Governor Ugwuanyi by divine grace of God would be leaving Enugu permanently in God's hands if Barr. Mbah succeeds him in office having himself ran a self effacing, eventful and peaceful administration.
It is equally worthy to believe that governor Ugwuanyi might not have left Mbah's emergence as the PDP's standard bearer to chances. As a good and a peaceful man who has captained the ship of Enugu State with equal passion and doggedness, he must have deployed the same diligence to cultivate a possible replacement in Barrister Mbah who only sought a practical philosophy of Enugu being in the hands of God to bringing our tommorow to the present. Barrister Mbah's mind's recess, pragmatic approach would be amply deployed to strengthening government positive impact on the citizens if he is eventually elected. Barrister Mbah is already confident of deploying his high scholarly dispositions to harness potentials in the state for the overall benefit and interest of the people.
Barrister Mbah who is also the founder of Peter Mbah Foundation (PMF), a non profit and non political organization aimed at improving standards of living in rural communities and human capital development is set to continue with the trajectory of his psychological make up in the overall interest of Ndi Enugu if he scales through in the next gubernatorial election in 2023. One would equally rejoice that Pinnacle oil and gas massive terminal would not only provide massive nest for job seekers nation wide but will continue to crystallize economic growth and leap frog our GDP which is in dire straits.
One noticeable trait about Barrister Mbah for keen observers from afar is his calm mien and disposition. In spite of the mudslinging and tantrums being thrown right, left and center by political opponents as the road to the Enugu Lion Building hots up, Barrister Mbah has also remained self effacing and focused. One could easily read the mind of an entrepreneur who is already designing a template that would give fillip to his service compact with the people if he is eventually elected rather than engage in cross tantrum that might jeopardize or whittle down his verve and consequently loss concentration.
Ndi Enugu, Pinnacle is coming home!
Ndi Enugu, our tommorow is being remodeled for today!
Ndi Enugu, are we ready for the Renaissance?
Indeed, Enugu State is in the hands of God. May He never fail us through Christ our Lord, Amen…
Bibian Anekwe News added; A great leader's courage to fulfill his vision comes from passion not position.
©Austin Okechukwu Chijioke.
Public Affairs Commentator.
Media Team lead for Enugu Di N'akachukwu Movement.
www.bibiananekwe.com