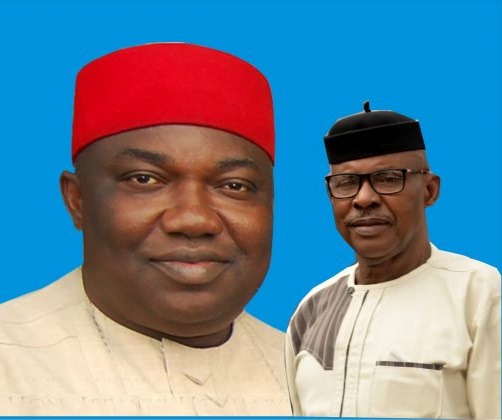 As countdown to the party primaries gets nearer, it is important to counsel political aspirants jostling for political positions from their respective political zones to remain steadfast as they embrace their final lap in order to make their candidacy acceptable to the delegates who will elect them to fly the flag of their respective political parties. There is no denying the fact that the Peoples Democratic Party has become a beautiful bride in Enugu State and all the heat so far leading to the primaries has been emanating from it. It is understandable and judging from previous experiences, whoever is allowed to fly the flag of the party is as good as having won in the general elections.
Although a lot of efforts appeared to have been made by the aspirants and their supporters, many people still feel that much remains to be perfected in the area of packaging and marketing of the  candidates for public scrutiny.
While some aspirants showcased themselves fairly enough, others were yet to impress the public and the delegates adequately on why they should be considered worthy enough to fly the flag of the party for the aspired position. Perhaps, they may be expecting His Excellency, the Rt Hon Governor Ugwuanyi to adopt them as his favorite political children and to impose them on the people at the expense of their better qualified opponents. I say sorry to such political day dreamers because the Ugwuanyi that we all know very well is a selfless, impartial, fair minded, democratic and experienced leader who had never and will not impose an unpopular, questionable,  dubious and unqualified candidates on the people against their wish, be them gubernatorial, Senatorial, House of Reps or State Assembly aspirants.
This reminds me of a recent panicky alarm raised by one Mr Obeta Obeta on behalf of Nsukka Forum For Equity and Fairness, alleging that Nkanu Peoples Assembly had planned to unleash  massive media campaign against Governor Ugwuanyi, to compel the peoples Governor to throw his weight behind a gubernatorial aspirant, Mr Peter Mbah described as the favorite candidate of the Nkanu people. People wondered how Nkanu people could successfully use the so-called massive media campaign to 'compel' Governor Ugwuanyi to act  according to their own whims, except, however, such act is in tandem with the Governor's  avowed commitment towards rotational power arrangements of the State.  Anyone who takes Governor Ugwuanyi for granted does so at his or her own peril.  On the other hand, Nsukka Forum For Fairness should stop creating false impression that Ugwuanyi could
be manipulated by propagandists. It is rather very unfortunate and disappointing that all these years
some desperate politicians failed to appreciate the impeccable moral rectitude of Governor Ugwuanyi.
People had expected to see a better clearcut analysis and highlights on the profiles of each of  the candidates wishing to represent us at the Red and the Green Chambers of the National Assembly; their portraits, records of their antecedents as well as academic backgrounds. The aspirants should understand that Ndi Enugu has come of age, wiser and politically sophisticated and that things can no longer be business as usual. The era of staying longer than necessary in a political position as if it is a birthright and without proper knowledge of the geographic areas or the basic needs of the people being represented, is over. The people of Enugu across all the political zones will want to support Governor Ifeanyi Ugwuanyi on his avowal to entrench an enduring legacy of political harmony based on equity, justice and fairness in Enugu State. Therefore on zoning of political offices based on the aforementioned we solidly stand. Those who have gone once or twice into a political office should understand that it is a privilege and not a right and therefore should be prepared to yield way for another suitable aspirant that the people would be willing to elect. We should never attempt to go back to the dark years of political brigandage where might and intimidation to occupy a political office is right.
It is important to underscore the prerogative of the masses or the electorates to elect a preferred candidate or recall or reject a politician when such politician has overstayed his or her welcome.
Aspirants should understand that there are always days of reckoning and they must surely come. The decisions we make today or the impacts we make today at whatever positions of authority we found ourselves will either haunt or straighten our political parts tomorrow or in the future. I'd like to therefore explore some qualities, traits and responsibilities expected of a political aspirants for whatever position.
1. Previous political experience of successful tenures.
2. Solid educational backgrounds and eloquence for clear verbal expressions, constructive and logical arguments.
3. Interpersonal skills, team spirit and ability to build consensus.
4. Analytical mind and capacity to prioritize divergent views.
5. Courageous mind set to swim through the murky waters of Nigerian political terrains and the associated intrigues.
5. Possession of pragmatic personality to build bridges across borders for necessary leverages.
6. Radical attitudinal reflexes to stand resolute in the defence or in opposition to some motions, policies or views when occasions call for such.
7. The qualities expected of a leader are legion, but most importantly, a leader must be ready to work for the people who elected him or her and not be self seeking for personal aggrandisement.
If truth be told, our people have for long been subjected to untold hardships and criminal denial of their inalienable rights of dividends of democracy, due largely to the ignorance on the part of the people and inordinate greed on the part of the elected politicians. In the past most of our Councillors,  Local government Chairmen, State Assembly members,  Governors, Federal
House of Reps members and the Senators have been guilty of this failed  representation of our people. They often forgot that they were there based on the quota share of a particular Ward, Local Government area, Senatorial zone, Federal constituency, State or Geopolitical Zone, hence their usual arrogant behavior of seeing themselves as tin gods. They become aloof and inaccessible to the electorates to whom they are directly accountable for.
Our people are now more politically aware than ever before and as such the Rt Hon Governor Ugwuanyi can neither be intimidated nor stampeded into betraying the trust our people repose on him to install a credible successor on completion of his tenure, based on the already existing tripartite zonal rotation and sharing arrangements in Enugu State. Rather than spreading rumours about some impending massive media campaigns against Governor Ugwuanyi  to compel him to throw his weight behind one favourite candidate or the other, the aspirants should better embark on serious  marketing and packaging of themselves to the elected delegates ahead of the primaries. All groups, forums, assemblies or whatever names they call themselves, should go and do their homework well and leave our Governor alone. Any attempt to push him into a stampede against his prepared honest mind shall be vehemently rebuffed
and repelled with attendant caveats.
What the people are saying is that we cannot continue to recycle or tolerate the candidates of poor representation and still expect miracles to happen on our bad roads, education system, health care,  unemployed youths or on getting our fair shares from the federated union called Nigeria. The yearning for a 4-year recall from or return  to the National and the State Assemblies should be strictly  adhered to. This practice is expected to sanitize the system by eradicating the moribund sit tight poor representation syndrome that has been the order of the day.
Recently I travelled along 9th Mile – Opi Nsukka expressway, a federal road of less than 20km, which has been abandoned to get dilapidated into  death traps. It was such an awful sight watching some helpless passengers sweat profusely under the scorching sun as they pushed cars and buses off some deep holes and ditches in their desperate effort to continue their journey.
In fairness to Governor Ifeanyi Ugwuanyi, he had tried within the limits of state resources to fix rural and urban roads. The road under review should have attracted the attention of our representatives at the federal level but successive Enugu State federal law makers have turned their left eye to what clearly is their responsibility.
Those jostling to represent us at whatever level of government should be ready to work for the people just as Ifeanyi Ugwuanyi. Political favours will no longer be earned on a platter.
I was pleasantly surprised  when sometime ago, the inexhaustible lists of projects attracted by Senator Omo Agege from South-South Geopolitical zone were extensively published in the social media. Since then I have resolved that rather than allow ourselves to be shortchanged by those who claim to represent our interests, we should rise and take our destiny in our hands. This is to say that a dramatic change is inevitable. The time for this change is right now.
*Bibian Anekwe News added: "The growth and development of people is the highest calling of leadership".*
Written by
Collins Onuzulike Okolochukwu OBODO
Deputy Corps Commander retired.
A Sociopolitical Analyst
A Media Team Member ENUGU DINAKA CHUKWU MOVEMENT