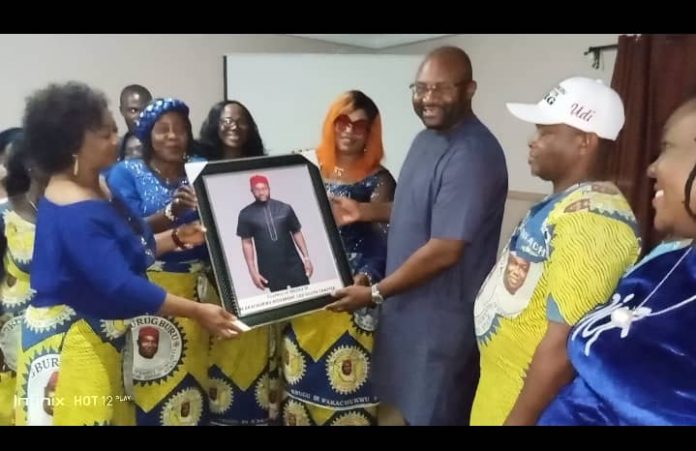 In readiness to bring on board all political aspirants who truly believed in the cardinal objectives of the current administration of Governor Ifeanyi Ugwuanyi and His Excellency Hon Peter Ndubuisi Mbah to make Enugu State a home for all and engender peace while pursuing development at all levels, the mega political group of the present administration, the ENUGU DI N'AKACHUKWU MOVEMENT has continued in its pre-solidarity visits to all PDP aspirants to elective offices in the scheduled 2023 general elections to pledge its loyalty and uncommon support to mobilize enough votes to ensure that they win their elections.
It became the turn of Honorable Okechukwu Aneke, PDP, the erstwhile Chairman of the Peoples Democratic Party in Udi local government Area and who won the ticket to contest for the legislative seat of Udi south Constituency in the Enugu State House of Assembly in the scheduled 2023 general elections. Members of the Executive Committee of the mega support group, Udi South zone took time off its busy schedule to pay him a solidarity visit at the De Angelo Hotel Enugu.
The Udi South Executives members of ENUGU DI N'AKACHUKWU MOVEMENT while appreciating the contributions of Hon. Okey Aneke and for aligning with the cardinal objectives of governor Ugwuanyi led administration while he held sway as the Chairman of PDP in Udi local government Council pledged to give him a 100% vote to become a legislator when the 2023 general elections berths. Members of the group praised Hon. Aneke to high heaven for his forthrightness and vision for the Peoples Democratic Party while he held sway as the PDP Chairman in Udi local government Area and for his assistance to the numerous sons and daughters of Ndi Udi.
Appreciating members of the Executive Committee who visited him, Hon. Aneke , was full of praises to the mega group for its total support to the PDP all these years.
Enugu, tomorrow is here!
Bibian Anekwe News
www.bibiananekwe.com