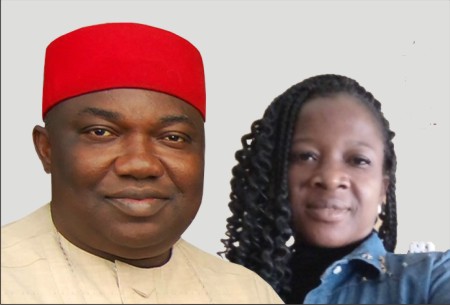 In Igbo cosmology and indeed most other African culture, a name is often associated with a thought process. A name is not just given to a child for the sake of an identity but to reflect the inner feelings of a parent to their new born baby. More often, a good collection of family members and friends will gather for the sake of pronouncing a name for the new born baby. Such names like Ifeanyichukwu have come to recently give credence to the trending pentecostal mantra "What God can not do does not exist". Of course, no one should have been ever in doubt as to the capabilities of the Almighty God. Parents who give their children this name understand this and hope that a child with this name will do exceedingly well given the grace of God upon him.
For the second time an "Ifeanyichukwu is happening to Ndi Enugu. Of course we have so many of such names in our culture, but we have been opportune to encounter two Ifeanyichukwus from Enugu State who proved that truly God can do all things if we rely on His guidance. The first time an Ifeanyichukwu showed himself was when Anambra and Enugu were still together as one state. Chief Jim Ifeanyichukwu Nwobodo was a charismatic leader just as the current Ifeanyichukwu Ugwuanyi. As a result of his charismatic character, the people gave him the Moniker "Gburu-Gburu" to underscore his penchant for touching lives irrespective of clan, religion or political affiliations. Gburu-Gburu is a man of the people across the divide.
When Ifeanyichukwu happened to Ndi Enugu first in 2015, he promised to do everything in his human power to deliver dividends of democracy to the people of the state with absolute reliance in the grace of God. Seven years down the road, Ifeanyichukwu has not failed his people who gave him their mandate a lead them for two terms which shall by grace of God end in praise on May 29, 2023. Ifeanyichukwu within the period under review initiated several well meaning policies and programs to alleviate the sufferings of the people. The icing on the cake remains a huge Project which he attracted from the World Bank for the good of the women and the youth in the state. At the last count, a few thousands have become beneficiaries of this well thought out program including yours sincerely. The World Bank project has to do with training in agricultural ventures like Rice farming, fishery, piggery, poultry, cashew plantation and so many others all aimed at empowering the women and the youth to remain self reliant and sustaining rather than the perennial over dependence on the scarce government job. As I pen this, several millions of Naira have been expended as grants to the beneficiaries of this program to help them set up. Such is the power of Ifeanyichukwu who starts and finish a good race. For him it is not just enough to train people and leave them to find their level, it is only fitting to give them extra resources to help them set up.
Ifeanyichukwu is God sent. Gburu-Gburu is a man of the people. May God continue to bless and lift him higher to continue doing good for the people. Ifeanyichukwu is surely in God's hands.
Bibian Anekwe News added: "The quality of a leader is reflected in the standards they set for themselves".
Chinyere Okafor
Media Team Member of ENUGU DI N'AKACHUKWU MOVEMENT