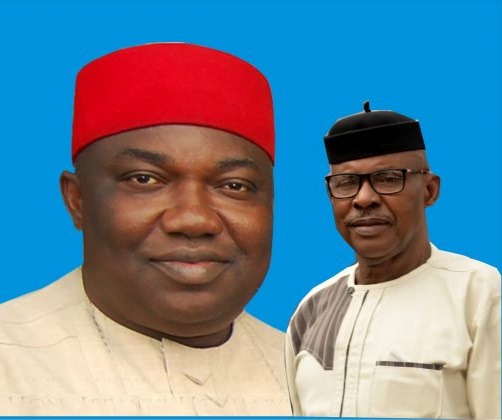 Permit me to join the good people of Enugu State and the teeming population of Nigerians at home and in the diaspora to request the Rt Hon Dr Lawrence Ifeanyichukwu Ugwuanyi to pick up the Presidential Ticket and declare his intention and readiness to join the 2023 Presidential race. We see no need for his further consultations in this matter because Nigerians have already identified in him a leader who possesses all it takes to rescue the country from its present sinking condition and take the people to the promised land. an advocacy visit to the Government House Enugu, the executive members of the Enugu Di Nakachukwu Movement, ably led by its DG who also doubles as the Senior Special Assistant on Mobilization and Empowerment to Enugu State Governor, Hon Bibian Anekwe, had also expressed their massive solidarity to support the candidature of His Excellency Governor Ugwuanyi to run for the 2023 Presidency.
Having carefully scanned through the plethora of the presidential aspirants, mostly from the ruling APC Party and the leading opposition party the PDP, I have come to a logical conclusion that the Rt Hon Ugwuanyi is second to none of them in terms of qualification and suitability for the position. This is because the attitude and the requisite leadership capacities and competencies to manage Nigerian nation reside and domicile in the person of the Rt Hon Ugwuanyi, namely: humility, forgiving spirit, prudent and judicious management of resources, equity, justice and fairness, accountability and stewardship, honesty and transparency and good governance among other leadership qualities.
It was to derail Dr Ugwuanyi's rising political profiles that some faceless desperate political spoilers embarked on denting his clean score sheet with some spurious allegations. This, however, did not come to many as a big surprise because most Igbo politicians are known for pulling down their own rather than promote them higher.
It was in the defence of this exemplary leadership qualities, that Mr Femi Fani Kayode, a Yoruba man, had described as false, wild and baseless the allegation of financial impropriety and grabbing of properties as was peddled against Governor Ugwuanyi. FFK said "such allegation was a premeditated venal and vicious lies and an attempt to disgrace or destroy one of the brightest stars in the East and indeed in Nigeria…" I had purposely made this digression for two reasons, namely: that Dr Ugwuanyi is widely recognized as "one of the brightest stars not only in the South East but also in Nigeria and to highlight the evil is deliberate destruction of someone's hard earned reputation to achieve one's own political aspirations.
Below are some of the reasons Nigerians want Dr Ugwuanyi as the President of the country come 2023:
*As a leader of an impeccable character and zero tolerance for corrupt practices,
Gov. Ugwuanyi can salvage Nigeria's battered image.
*As a winner of the Most Peaceful Governor in Nigeria, he will bring the much needed peace and tranquillity in this troubled country.
*As the winner of Most Youths Friendly Governor in Nigeria, Gov.Ugwuanyi will douse the alarming rate of youths restiveness and crime waves in Nigeria.
*As a detribalized Nigerian and strong believer in equity, justice and fairness, Gov. Ugwuanyi will unify our multi ethnic nationalities demanding to break away from Nigeria.
*As a leader at the prime age of 58 years, Gov. Ugwuanyi is young, strong and vibrant enough to save the country from wasting her taxpayers money on frequent medical trips abroad.
*As an astute administrator and seasoned financial manager, he will bring sanity to save our nosediving dwindling economy from total collapse and restore our national currencies from steadily losing exchange powers to the Dollars.
*As an expert job creator, Gov. Ugwuanyi will provide massive employment to over 40 million unemployed youths in Nigeria today.
*As a brilliant scholar and lover of education, Ugwuanyi will restore the devastating falling standards in our educational systems, thereby putting a final stop to ASUU's persistent strike actions; and also give hope to the millions of out of school age children in Nigeria.
In conclusion, may I reiterate that it is our collective responsibility to ensure we elect one of our most qualified sons to occupy the coveted seat at the Aso Villa come 2023. Since the Rt Hon Dr Lawrence Ifeanyichukwu Ugwuanyi has performed exceptionally well as a Governor of Enugu State, he deserves to be rewarded with a higher position to become the Nigerian President come 2023. To do this, all hands must be on the deck, please.
Bibian Anekwe News added; "Leadership is the capacity to translate vision into reality."
OBODO COLLINS OKOLO
Deputy Corps Commander retired
A Sociopolitical Analyst.
A Media Team Member ENUGU DI N'AKA CHUKWU MOVEMENT.