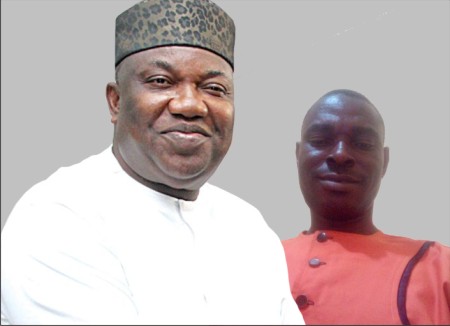 The recent release of both WAEC and NECO results which students of post primary education sat across the federation and which placed Enugu State first in the overall performance index did not come to many as a surprise. Enugu State Government under the able leadership of Rt. Hon. Ifeanyi Lawrence Ugwuanyi was able to make a clear decision on what it hopes to achieve with a new Enugu using the instrumentality of education. When Governor Ugwuanyi ascended the position of leadership in 2015, he made conscious and diligent effort to re-write the narrative of a state who was always coming second or third in educational ratings behind Anambra and Imo states in the South East and not too comfortable far in national ratings. Today, the man who many have continued to caricature for handing Enugu to the hands of God has put shame on their faces. By the feat achieved by our secondary school children during the 2022 WAEC and NECO exams by taking other state's children to the cleaners can only confirm that what is left with God rarely gets spoilt. It is an eloquent testimony that governor Ugwuanyi has not played to the gallery all these years. By making conscious effort to revitalize the education sector through massive rehabilitation of existing blocks of classrooms, construction of new ones, massive engagements of teachers and improved learning and teaching experiences in an enhanced environment, governor Ugwuanyi showed the early signals of a warrior determined to change the scope and direction of how education considered to be the bedrock of economic advancement of a nation is run in Enugu State.
Enugu State government's investment in education has been quite unprecedented especially during Ugwuanyi's administration and the result of this investment is what we are reaping today. The performances of our children in the recently concluded external examinations which tested other children from other states cannot be said to be a mean feat. The hands of God are truly at work!
The Independent layout primary school 1 in Enugu State was a purpose built pilot school. This school has maintained an outstanding performance and has taken the lead among the first ten in educational ratings nationwide for over a five year period. To be sure of the performance of the primary school pupils, invigilators comes from Abuja every term and from State here every month and the school have not failed to impress them. Other schools in Enugu both primary and secondary are doing pretty well. Even private schools in Enugu have been outstanding in performance. Enugu State still holds the record of best performing private schools both in primary and secondary school in the South East.
That Ugwuanyi's administration have invested heavily in education is an understatement. Enugu State Primary Education Board (ENSUBEB) under Ikeje Asogwa have built, renovated and equipped over 1000 primary schools in Enugu State. They have provided reading material, teaching aids and have regularly recruited qualified staff for schools in Enugu State. His counterpart in Post Primary School Management Board (PPSMB) Mrs Favour Ugwuanyi have also kept the flag flying very high. Primary and secondary schools in Enugu State have more classroom blocks built, equipped and commissioned under this administration than any other government that have been in Enugu State. This administration has the least record of agitation, industrial actions and strikes than any other government before it. This government have provided reading and teaching aids massively that every school in the state have a fare share. Ministry of education have also partnered with host communities in schools in rural areas and with PTA of schools to raise the bar in the quality of education in the state.
This government have also prepared and motivated teachers in both primary and secondary schools by organizing trainings, workshop and interactive sessions with teachers. They have been duly promoted and have not been unduly owed their salaries and allowances. This have been a motivating factor and have spurred the teachers to give in their best. The result of this rosy relationship is outstanding result seen in performance of our pupils and students. Teachers from Enugu State have also won awards in various capacities for their outstanding performances.
Even in extra carricular activities, Enugu State have been doing well. Nike grammar school is known for churning out football gurus. GTC Enugu and Nsukka have produced so many vocational experts that they are most sought after by so many companies. Top private schools in Enugu scale through external exams like JAMB, WAEC and others with ease.
We are proud of what the handlers of educational sector are doing in Enugu State and agree fully with the governor that Enugu State is in the hand of God.
Bibian Anekwe News added: "A good leadership is to help those who are doing poorly to do well and to help those who are doing well to do even better".
Leonard Ugwu
Media Team Member of ENUGU DI N'AKACHUKWU MOVEMENT
www.bibiananekwe.com