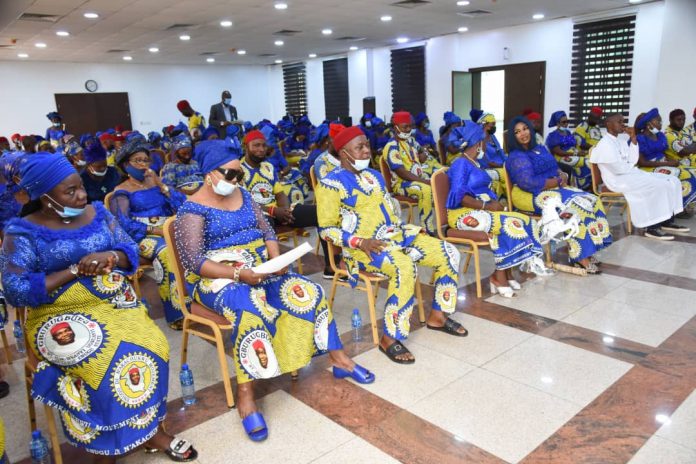 Support groups are essential institutions of democracy. As political pressure groups, support groups help to shape governance while administering other strategic roles as may be duly formulated by the group's think tank. These groups exercise their basic democratic rights through active participation in sensitization, campaign and other peculiar events.
In Enugu State for instance, there exist a long history of support groups yet only a few conclusion can be drawn with confidence about their trajectories over the decades.
As a great force to reckon with, Enugu Di Na Aka Chukwu Movement, a great idea conceived and nurtured through the persistent and selfless efforts of our Director General and Senior Special Assistant to the Governor on Mobilization and Empowerment, Hon.Mrs Bibian Anekwe, have overtime evolved as a result of Gov. Ugwuanyi's positive outlook and processes of redefining governance. The noble movement has metamorphosed into a large community, offering unique benefits, including opportunities to its members to engage progressive minded political leaders by showcasing them at the frontline, in their respective political pursuit.
Today, Enugu Di Na Aka Chukwu support group through it's  unreserved and steadfast support for  Gov. Ugwuanyi's administration, has become a common part of the socio-political fabric in Enugu State. A fair position which further bred opportunities for other support group to emerge even when they lack the wherewithal to stay afloat in the political terrain.
As a system that offer meaning to it's citizens,  Enugu Di Na Aka Chukwu had facilitated great opportunities for political participation through it's media outlet and other mobilization machinery with it's assistance reaching across from ​the grassroots members​ to mid-level ​officials and Director General. The group's approach both in the past and present had continued to exenorate it of unpatriotic engagements associated with other support groups thereby scuttling the chances of appending negative meaning to the achievement of the evergreen movement.
Enugu Di Na Aka Chukwu Movement had vigorously supported the development of vibrant, accountable and inclusive leadership of the current dispensation of Rt. Hon Ifeanyi Ugwuanyi. The formidable Movement, unanimously lined up behind Gov.Ugwuanyi all because of his ideology and good policies which had helped to prepare the democratic dividends which the good people of Enugu State are currently enjoying.
Again, the Movement had become a working vehicle and evangelistic platform for the propagation of Gov. Ugwuanyi's goodwill, as clearly, encapsulated in the giant strides he had achieved in various sectors in the State.
Consequently, as our country's political atmosphere continues to take a distinct colouration, it is imperative that Nigerians should solemnly reflect on "where the nation is going and why it should take the distinct leap"
Regrettably, absence of an acceptable national leadership has been Nigeria's greatest obstacle to political stability, sustainable economic development or socio-cultural harmony.
The situation had propelled Nigerians to clamour and beckon for change in the national leadership. However, the irony is that the past had been in most cases, adjudged to be better than the future hence, there is need for re-examination of the leadership of the past and draw a consensus choice from it.
As Individuals, interest groups and other relevant bodies continues to join voices in the clarion demand for a better leadership, United Muslim Ummah league, a northern based group, having cautiously evaluated the antecedents of the current political actors from the southern hegemony, described  Gov.Ugwuanyi as a bridge builder and epitome of peace thus, considers him as the best candidate to steer our nation's affair come 2023.
A high ranking politician and former federal legislator, Sen.Hyde Onuaguluchi had remained consistent in lending his voice to this new call. Our memories are still deluged with meritorous inputs of Gov.Ugwuanyi when he chaired the PDP National Committee on Zoning. He designed a formidable template which helped in successful navigation of the activities of the committee. Based on his track record, Gov.Ugwuanyi has become a sought after for national leadership roles. And despite the overwhelming demands of these national assignments, he had not lost focus.
Enugu Di Na Akachukwu as an instrument of championing good governance, having noted with utmost patriotism, these rare leadership traits, deems Gov.Ugwuanyi as the best alternative to repair nation's broken shell. The group, during its Advocacy Visit to Gov.Ugwuanyi, admonished him to hearken to the wishes of the people by joining 2023 presidential race. The call became necessary as a result of the relative peace and enduring development that has now become a reality in Enugu State through his selfless efforts.
The reason why it should be Gov.Ugwuanyi, is because under the current political dispensation, Enugu State had been luxuriating in good leadership experiences and the people continues to show solemn eagerness to have a replica of Gov.Ugwuanyi in the Lion's Building come 2023.
Returning the nation to the path of glory is not a function of the application of a rocket science but rather through a diligent deployment of sound leadership prowess and principal factors such as justice, fairness and equity which forms major tripod of Gov.Ugwuanyi's administration.
Bibian Anekwe News added: "Effective leadership is not about making speeches or being liked; leadership is defined by results not attributes".
Written by
Gibson Uchenna Ilozuru
A Political Analyst
Media Team Member of Enugu Di Na Akachukwu Movement.