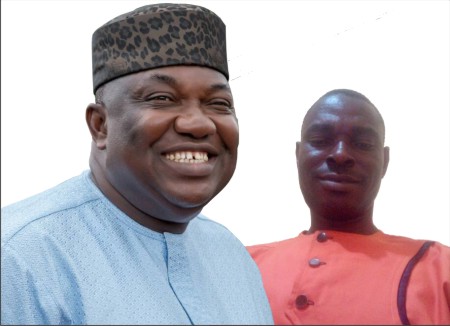 There has been pockets of agitations especially from some uninformed segments of the population which has been labouring to paint Gov Ifeanyi Ugwuanyi as under-performing Governor or one who has not truly lived up to expectation. While it is the right of all individuals in a participatory democracy to hold opinions on issues as it concerns them, it is imperative to remark that individual tastes and expectations are relative and mutually exclusive. Therefore, what is good going by Mr. A's expectations might differ from Mr. B's expectations. Again it is important to interrogate people's performance yardstick for their leaders especially as it concerns Governor Ifeanyi Ugwuanyi's administration. Although, a lot might have been written in support of uncommon efforts by his administration to improve the lot of Enugu State people reflecting his entire constituency.
Look at it this way. Most part of the country have witnessed almost total collapse securitywise but by sheer dint of hardwork and political sagacity Enugu State have remained relatively peaceful and secured. Any seeming security breach have met with immediate response to nip any untoward incident in the bud. Any family man in particular and a grown up adult in general knows that it is costly to maintain peace. There is a very strong neighbourhood watch and eagle eyed local vigilante group set up in every nook and cranny of Enugu State. That did not come without a cost and commitment.
Security issues all over the world is a function of intelligent gathering and mapping out strategies and tactics to confront them. Governors by their designation are termed chief security officers of their states, yet the extant security operatives are by their destination on the Exclusive list of the federal government and takes direct orders from their bosses at the center rather than the ones designated as chief security officers in their states. What a contradiction!
Governors are not directly in charge of federally controlled law enforcement agencies like the military or the police. So why would one insinuate that Gov. Ugwuanyi has failed adequate security for Ndi Enugu? When compared to emerging scenarios in other neighboring states, Gov. Ugwuanyi should be given an appreciable thumbs up for providing leadership in this direction while praying and encouraging him to do more. At any rate, security remains the business of all. While government provides the leeway, it is the duty of the citizens to take precautions to make the security arrangements of the government work for them.
In Nigeria, there is a near collapse of the economy but the economy of Enugu State has recorded an appreciable and relative growth. It is surprising that Enugu State makes more Internally Generated Revenue (IGR) than Abia and nearby States. This has not happened since this state was created except in the administration of Ifeanyi Ugwuanyi. Enugu now has more IGR than any state in the South East. Is that what you call failure?
Gov Ifeanyi Ugwuanyi of Enugu State have not plunged his state into debt like other states. The debt burden of Enugu State have remained the place he met it. A fellow governor met his state in a good credit balance and left it in a very terrible debit balance. Another governor being touted as Mr project in the South East have put his state in so much debt that his state allocation for the next eight years may never offset their current debt even if the next administration did not take any loan. Is not taking loan what we call failure?
Enugu State have witnessed economic growth irrespective of the economics failure in the center. There have been increase in both large, small and medium scale businesses in Enugu. under Gov Ugwuanyi administration Rico Groups started and completed a gigantic plastics product plants. Sam Maduka Onyishi University, Urban University, Coal City University, all of them took off and became functional under this administration. A gigantic company suspected to be a brewery is coming up in near Oji Junction and is nearing completion. It all started in this administration. More than a thousand small industries kicked off in Enugu State under this administration and most of them are doing well up till now. Many hospitality industry have started in Enugu State under this administration. Are all these a failure?
In health circle, am still looking for the family failure. Colliery Hospital around new market have been in a very bad shape until Gov Ugwuanyi came in and rehabilitated and equipped it. Dr Simon Otuanya Diagnostic Center at GRA Enugu is equipped and commissioned by Gov Ugwuanyi. A word class medical school is 85% completed at Igbo Eno at Orba/iheaka/ovoko/Nsukka area in Enugu North political zone. The place is a complete package in Medicare and a lot of money has gone in there. General hospitals in all the local governments areas in Enugu State got facelifts and equipments. General Hospital in Ogrute Igbo Eze North LGA is the foremost general hospital in old Nsukka political zone and was left in shambles until Ugwuanyi came on board. Today, the hospital have been fully renovated, equipped and restaffed courtesy of Gov Ugwuanyi's administration. All the health facilities in Enugu State have experienced medical personnel working there and secured by conventional police force or local vigilante groups courtesy of Gov Ugwuanyi's government. Is this a failure?
For the first time since the return of democracy in 1999, there was no fracas between the executives, legislators and judiciary in any way. It has not happened before. There was no strike by any staff on the government pay roll, Is that a failure?
This government dolled out development fund to all the autonomous community in Enugu State which have not happened before, they gave vehicles and motorcycle to all neighbourhood watch and local vigilante groups in Enugu State. They have secured Enugu forest more than any government before them in Enugu State. He runs an open government policy than any other government before him. Is that a failure?
Governor Ifeanyi Ugwuanyi is humble, approachable and gives listening ear to all shades of opinion than any other leader before him. Is that a failure?
Gov Ugwuanyi have not embarked on any foreign economic tour since his ascention to power but there have been continuous investment in Enugu State. He has not embarked on any medical checkup abroad since he became governor. That doesn't mean he do not fall sick but he has absolute confidence in Nigeria health system irrespective of how deteriorated it has become. Gov Ugwuanyi have consistently employed qualified teachers in all the schools in Enugu State. He believes education is light and knowledge is power. Could that be termed a failure?
Enugu State receives little from Federation Account and he has managed that little prudently. He has not plunged us into debt and do not wish to do so. Then why is it called a failure?
Am still looking for where he has failed and will continue to search for it. Let us look positive, see positive, talk positive and act positive then we will get a positive result. Enugu State is still in the hand of God and will continue to be.
Bibian Anekwe News added: "Great leaders are concerned citizens who desire to create change for the common good. Integrity in the workplace is essential to effective teamwork, advancement in your career, and truly leading yourself and others to greatness."
Leonard Ugwu
Media Team Member of ENUGU DI N'AKACHUKWU MOVEMENT.
www.bibiananekwe.com